We at CASA HOGAR are thankful for any resources that generate attention and support for our cause. Yet, we are especially proud that we can call harpist Magdalena Hoffmann, composer Ludger Vollmer and the choir fiat ars our "art ambassadors" that multiply a very selected and worthwhile form of attention.
All three art ambassadors share a sense of responsibility for society and gladly represent CASA HOGAR in public.
Our charity concert "perspectivas", at which all three artists performed, was a spectacular reflection of their support to our project. (And by the way, you can experience or relive the concert here )
Magdalena was destined to be a harpist. Everyone who has been lucky enough to experience her in concert would agree. Her career is a reflection of her talent: she became the solo harpist of the symphony orchestra of Tirol in Innsbruck at age 24. Today she is 26 and teaches at the Tiroler Landeskonservatorium.
Several scholarships as well as awards in national and international competitions are a confirmation of her talent, but not necessary to appreciate her performances.
Essentially two things have allowed me to live my life the way I wish: My education and a place that, up until today, I can call home. It is CASA HOGAR's declared goal to provide the very same thing for young girls: an education and a home. Thereby, these young girls and the community they live in should be given better prospects. This matter has truly touched me and I want to contribute as much as I possibly can to help this project succeed.










Magdalena Hoffmann was born in Basel in 1990. She moved to Düsseldorf in 1999 where she later completed her bachelor studies with Fabiana Trani at the Robert Schumann University, followed by her master studies at the University for Music and Dance in Munich. During a year abroad at the Royal Academy of Music in London she attended jazz classes with Park Stickney. Several master classes with the great harpists of our time (e.g. Fabrice Pierre, Isabelle Moretti and Mara Galassi) round out her education.
Magdalena received an episcopal scholarship through the Cusanuswerk and through the Yehudi Menuhin Live Music Now association, she was awarded a music scholarship by the GenRe Cologne and a sponsorship by the Hauck und Aufhäuser Kulturstiftung, as well as several other awards in national and international contests, such as the 1st prize at the international Concours Français de la Harpe and the 2nd prize at the international harp contest in Slovenia. On top of that she was a scholar of the PE-Förderung für Studierende der Musik e.V. which enabled her to purchase her current instrument, a Salvi Iris. In 2014, she was the guest "Celebrity Master" at the Harp Masters Festival in Switzerland where she performed for the first time her theater concert "Odyssey on 47 Strings".
Magdalena's professional career as an orchestra harpist began with an internship at the Symphony Orchestra of Münster after which she worked as solo harpist of the Symphony Orchestra of Osnabrück. She later became the solo harpist of the Symphony Orchestra of Tirol in Innsbruck where she has been working ever since while also teaching at the Tiroler Landeskonservatorium since 2015.
Magdalena Hoffmann is a popular Kammermusikerin and is particularly interested in transcending artistic boundaries while rearranging concerts and developing new musical concepts.
Ludger Vollmer's reputation precedes him: as Germany's most successful opera composer he has created great works such as "Lola rennt", "Border" and "Gegen die Wand" for Germany's renowned operas. Through Ludger's accessible music he has been able to reach the general public apart from what he calls the "Donaueschinger Musikelite".
"CASA HOGAR is a highly efficient charity: concentrated forces work together in good coordination. In precise coordination with the team, each member of CASA HOGAR does exactly what they are best at, thereby resembling a good orchestra: more than the sum of each individual contribution emerges in the end."
"CASA HOGAR saves young girls from physical and emotional trauma, but also tries to rattle the patriarchal structures that prevent the society in Chocó from moving forward and creating an actual change."
"I believe that artists have a responsibility toward the society. The vigor and creativity of CASA HOGAR is inspiring wherefore I gladly support them."
6/29/1961
Born in Berlin
1968-78
Attended the polytechnic secondary school, attended the music school Berlin-Köpenick from age 7 on (violin), member of the youth Symphony Orchestra Berlin-Köpenick
1978-81
Professional education as toolmaker with Abitur
1981-83
Military service in the national Volksarmee, before and after which he worked as toolmaker
1983-84
Secretary to a priest
1984-1990
Studies at the HfM Weimar and Leipzig (majors: violin, viola and composition), debut as composer with the Konzert für Kammerorchester 1990, graduation as Diplom orchestra musician (viola) with teaching qualification
1989-94
Orchestra musician (viola)
at the Leipziger Theater 1989-90
at the Magdeburgische Philharmonie 1990-92
at the Erfurter Philharmonisches Orchester 1992-94 while receiving a private graduate education in viola with Professor Heinz Rudolf at the University for Music in Dresden
1992
Relocation to Weimar / Thüringen
1994-98
Studies of Educational Sciences for Improvisation with Professor Peter Jarchow at the University for Music and Theater in Leipzig
1994-95
Teaching assignment for violin, viola and student orchestra at the Music School of Weimar
1994-95
Attended seminars by Professor Alfred Schnittke of the HfM Hamburg, successful participation in composition competitions across Europe
1995-99
Diplom and graduate studies in composition with Professor Dimitri Terzakis at the HfM Leipzig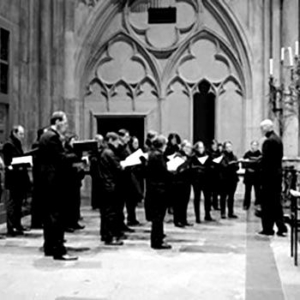 Jonas Dickopf, also active in the CASA HOGAR team, has been directing the choir fiat ars since founding it in 2006. Today, fiat ars has a reputation as one of the best choirs in the Rhineland. The sharp and fearless programs Jonas Dickopf develops with fiat ars, together with their high tonal quality, make them one of the most interesting entertainers of sacred choir music in Cologne's music scene.
"We at fiat ars support CASA HOGAR because we are aware of our privileged position as choir singer in Central Europe. We have the chance to use our very own means, namely choral singing, to contribute to a specific and good cause through CASA HOGAR."
FIAT ARS
fiat ars is the chamber choir of the Catholic University Cologne.
Since 2006 the choir has acquired an impressively broad repertoire of religious choir music of all epochs (with a focus on contemporary compositions). Four concert tours led fiat ars to Mainz, Metz, Kehl, Saarbrücken and Worms (2012), to the Netherlands (2013), to Hamburg and Lübeck (2015) and to Bavaria (2017).
fiat ars regularly perform concerts throughout Cologne and its vicinity, and can be seen in mass or other liturgies – in the Cologne Cathedral, in the twelve Romanesque churches, as well as "at home" in the Johannes XXIII. Church, the church of the Catholic University Cologne.
Jonas Dickopf
has been conducting fiat ars since its foundation.
Born into a musical family in 1982, he later studied philosophy and German philology in Bonn and Cologne. He completed the kirchenmusikalische C-Ausbildung ("Qualification for choral conducting") in the Archdiocese of Cologne. He was musically shaped by his teachers Erik Sohn and Boleslav Martfeld, as well as his time in the choir of the Cologne Cathedral conducted by Professor Eberhard Metternich.