Medical support and further education for Istmina and surroundings (Mission UBUNTU)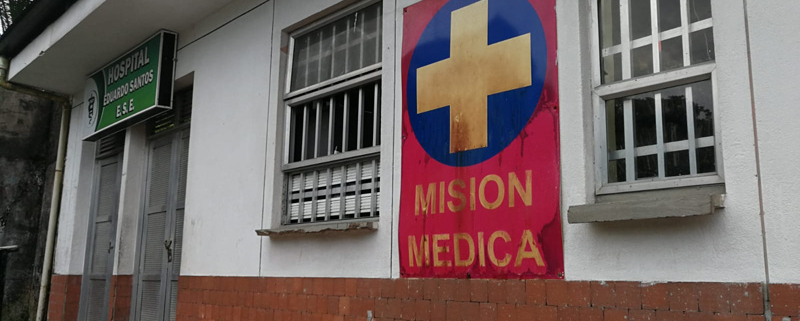 [vc_row][vc_column][vc_column_text]The COVID pandemic knows no borders, and so Colombia is also struggling with steadily increasing numbers of infections. In the Chocó region, where CASA HOGAR is active, only one case has been documented so far (as of 11 April 2020) – but unfortunately this does not have to mean anything: tests have to reach Quibdó, the capital of Chocó, via inadequate roads and from there they have to be flown to Bogotá. There is no suitable transport material for the samples, regular flights are currently cancelled…
It is unclear how infections from Istmina and even more remote areas of the Chocó will be included in the official figures. At the same time, the current medical care in Istmina is rudimentary and an outbreak of the COVID-19 virus would have fatal consequences – not only for the town of Istmina with its 20,000 inhabitants, but also for the approximately 130,000 inhabitants of the more or less nearby neighbouring communities along the rivers San Juan and Baudó. The hospital in Istmina lacks protective material, testing facilities, isolation facilities and even more so intensive care beds. The medical staff in Istmina know the limits of their medical offer and also their personnel capacities and know that they would not stand a chance against COVID-19 at the moment.
CASA HOGAR therefore works together with the local actors in Istmina – under the leadership of Bishop Mario de Jesús of the Diocese of Istmina-Tadó and with the help of Dr. Laureano Quintero, medical expert in disaster situations and medical director at the University Hospital del Valle in Cali, where Theodor Rüber met him personally as a student – to ensure that the population of Istmina and the surrounding areas also have a chance against COVID-19. This involves on the one hand the procurement of urgently needed medical material and on the other hand the personal support and further training of the local medical staff both by a team that will fly from Cali to Istmina and will accompany and support them on site, as well as the virtual accompaniment by a team of medical experts stationed in Cali. In this way not only material support will be provided, but also cooperation in terms of content – a way to ensure a long-term effect even in the face of this acute emergency situation!
For details – including the name UBUNTU – see the page on the relief measures against COVID-19 by CASA HOGAR.
Information about COVID in Colombia (spanish)
Information about COVID in Chocó (spanish)[/vc_column_text][/vc_column][/vc_row]
https://www.casa-hogar.de/wp-content/uploads/2020/09/MisionMedica.jpg
600
800
Monika
https://www.casa-hogar.de/wp-content/uploads/2019/03/logo_schwarz.png
Monika
2020-04-13 19:44:57
2022-10-01 15:23:35
Medical support and further education for Istmina and surroundings (Mission UBUNTU)